ESEA South Africa Season 28 is drawing to its inevitable conclusion. With all the focus locally being on Bravado overseas, the Vodacom CS:GO Cup at Rush, and the start of Evetech Champions League, ESEA seems to have been somewhat overlooked. Is there anything here to get excited about? Most definitely!
There's Energy
It's a rare opportunity to see South Africa's best team in Energy eSports play. Considering they don't take part in VS Gaming's Masters league and its numerous competitive Legs, we seldom get to see the undisputed local LAN gods in action. Until the reintroduction of the Evetech Champions League, ESEA was the only place we got to see them. With the playoffs of ECL still some way off, ESEA's online playoffs gives us all another chance to gauge the relative levels of South Africa's top teams and where they stack up against this terrifying Energy lineup.
ESEA Season 28: Group stage
ESEA Season 28 didn't serve up too many surprises during group play. Energy's only loss was a forfeit to PixelHunters. Only Sinister5 and Big 5 Esports were able to lose with close scoreliness to Energy, so it's fair to say the Season 27 champions have been relatively untroubled thus far. Energy Academy finished just ninth ahead of the playoffs. They've not looked nearly as good in the last few months as they did earlier in the year. Academy qualified for VS Masters but got relegated after only one Leg and have not been as much of a force since. I hope to see them raise their game for the next season of ESEA.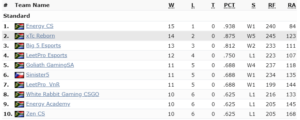 LeetPro VNR finished a highly commendable seventh, but weren't able to beat any of the better teams they faced. They got a good draw and took full advantage of it. I'd like to see them more consistently compete against the true top ten sides. Goliath Gaming managed a disappointing fifth place which is a little surprising. They have had a similarly uninspiring run in the current Leg of VS Masters. Hopefully they managed to fix whatever's been going awry for them ahead of the playoffs as we'd usually expect them to be just below Energy at the top of the leaderboard. xTc Esports found themselves in second place at the close of group play, with losses to only Energy and Goliath Gaming.
Read the full article here.