21 May 2018
There's been many a rumour and plenty of social media speculation surrounding the Souzern Lions reveal. As of today the cat has finally been released from its long imprisonment in the metaphorical bag. Souzern Lions have announcedthe entry of the CounterStrike: Global Offensive pickup game service, FACEIT into the South African market.
What is FACEIT?
You may recognize them as the hosts of the forthcoming London CS:GO Major. FACEIT are an organizer of huge tournaments and are responsible for the prestigious ECS CS:GO League. Their core business, however, is as a pickup game service and platform that is in direct competition with ESEA in most other markets. FACEIT boasts over 12 million unique matches every month across all titles, which is a rather massive number. In South Africa, they are initially focusing exclusively on CS:GO in partnership with Souzern Lions. Or perhaps it's the other way round? Either way, it is potentially big news for the local competitive scene.
Enter Souzern Lions
That's the way the press release puts it anyway. We've all seen announcements from companies and rolled our eyes at how they routinely claim to be the biggest, best, and most revolutionary. Are Souzern Lions going to do anything to break the mold? I'd go with a cautious yes and no. The Souzern Lions League is an interesting approach that would make many think of the FACEIT Pro League (FPL) or ESEA Rank-S available in Europe or the USA.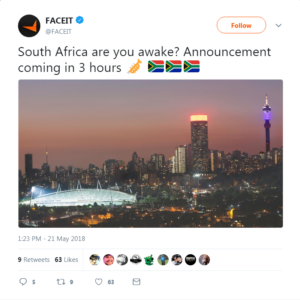 It's meant for individual players, rather than as a league for established teams. It's an incentivized pickup game system, which I think is a wonderful idea. There are Bronze, Silver and Gold divisions that players will have to work to progress through. Gold League is intended as the pinnacle, where the very best local players take each other on for the largest of the rewards. Players will have to grind to earn an invite to Gold League or qualify through their monthly Challengers Cup events. There are actual cash prizes as well as FACEIT points that can be used to buy in game and real world items on the FACEIT online store.
Read the full article here.