2 May 2018
After the highly successful one-off Valkyrie Challenge showmatch at the Evetech Studios last year, we saw the ultimate evolution and expansion of the concept in 2018. The Asus Republic of Gamer (RoG) sponsored Valkyrie all-female CS:GO league is into its fifth week. Stage One started on April 4 and is broadcast every Wednesday night, with it set to draw to a close on June 3.
Hosted by Mettlestate, the competition saw nine teams sign up for the inaugural season. A rather enticing total prize pool of R50,000 will be split between the top three teams. That should offer some strong motivation to the participants for the first season, as if the historic nature of the tournament itself wasn't enough.
Further good news is that Stage Two has been confirmed for this year, although dates have not yet been released. Barry "Anthrax" Louzada, the Supreme Overlord of Mettlestate and lead Valkyrie commentator, took a few minutes to chat with me about the tournament so far.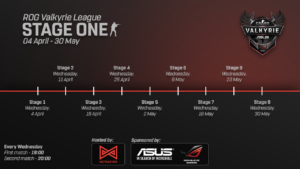 axtremes: Going into the very first season, what were your goals for the Valkyrie league?
Anthrax: The goal for Valkyrie is a simple one. To uplift and encourage female players to take the plunge and jump into the esports arena in a safe, encouraging space.
Have you been happy with the response to the tournament by fans and viewers?
The response so far has been incredible for the Asus RoG Valkyrie League. To see whole families, including mothers and fathers, out there supporting the ladies on stream and through social media is great. It goes to show how supportive the esports community can be if we put our minds to it.
Has the viewership been what you were expecting? The numbers have certainly looked very respectable to me.
The viewership has been great. We've averaged over 100 concurrent users on all our streams so far, even beating out some other local CS tournaments happening at the same time. The support has been truly incredible.
Read the full article here.